Notable chefs share their go-to comfort dishes for fall

When they're not whipping up five-star-worthy dishes at their signature restaurants or on TV, what are notable chefs cooking – and eating? We caught up with three culinary wizards to find out their go-to recipes for a cozy night at home. Here, they share a page from their personal recipe books.
Donatella Arpaia

Veteran chef and regular judge on the Food Network's Iron Chef America and The Next Iron Chef
Go-To Recipe: Air fryer spicy pork loin with apples, butternut squash, onions and fingerling potatoes
Why she likes it: "This dish says 'fall' to me, and it's a favorite of mine and my entire family," Arpaia says. "The best part is that I can fit all the ingredients in the air fryer, and all of the juices meld together. It cooks in a third of the time, which means I don't have to wait for the weekend for this type of comforting dish. And the butternut squash marks the start of the fall season."
Ingredients
2½ pound pork loin (with fat on top if you want crunchy top)
1 tablespoon extra-virgin olive oil
5-7 large cloves of garlic
4-6 sprigs of rosemary
¼ cup extra-virgin olive oil
Salt and pepper (to taste)
1 large apple (like Honeycrisp), sliced
1 tablespoon of Calabrian chili (or red chili pepper flakes)
1 medium onion, coarsely chopped
1 medium butternut squash, peeled and sliced in ¼-inch wedges
1½ cups fingerling potatoes
Directions
In small food processor, place garlic, rosemary, tablespoon of olive oil, chili, salt and pepper. Pulse into a paste.
Score the fat on top of pork loin and cut divots in meat. Rub paste all over meat and shove into divots.
Cut evenly spaced slits on top of the pork loin into fat (width wise), just deep enough to place in apple slices, not deep enough to cut through entire depth. Stuff each with apple slice.
Turn air fryer to 400 degrees.
Place meat in rack.
Place potatoes, onions and squash around meat. Drizzle with ¼ cup olive oil, salt and pepper
Cook for about 40 minutes.
Turn the temperature to 325 and roast until 140 degrees internally (measured with a meat thermometer). Remove and cover with foil for 15 minutes.
Slice and serve on large platter with interlaying apples, rosemary and potatoes. Garnish with kosher salt and serve immediately.
Note: In lieu of an air fryer, this recipe can be made in a conventional oven. Simply roast for 25 minutes at 375 degrees, then lower temp to 325 and cook until internal temperature reaches 135.
Stephanie Harris-Uyidi

Producer and host of Appetite for Adventure series and author of The Posh Pescatarian: A Collection of My Favorite Sustainable Seafood Recipes
Go-To Recipe: Spicy crab and mango panini
Why she likes it: "These crispy panini sandwiches are super easy to make, and you can swap out the main ingredients as you see fit. Can be made on the stove top or with a special panini press."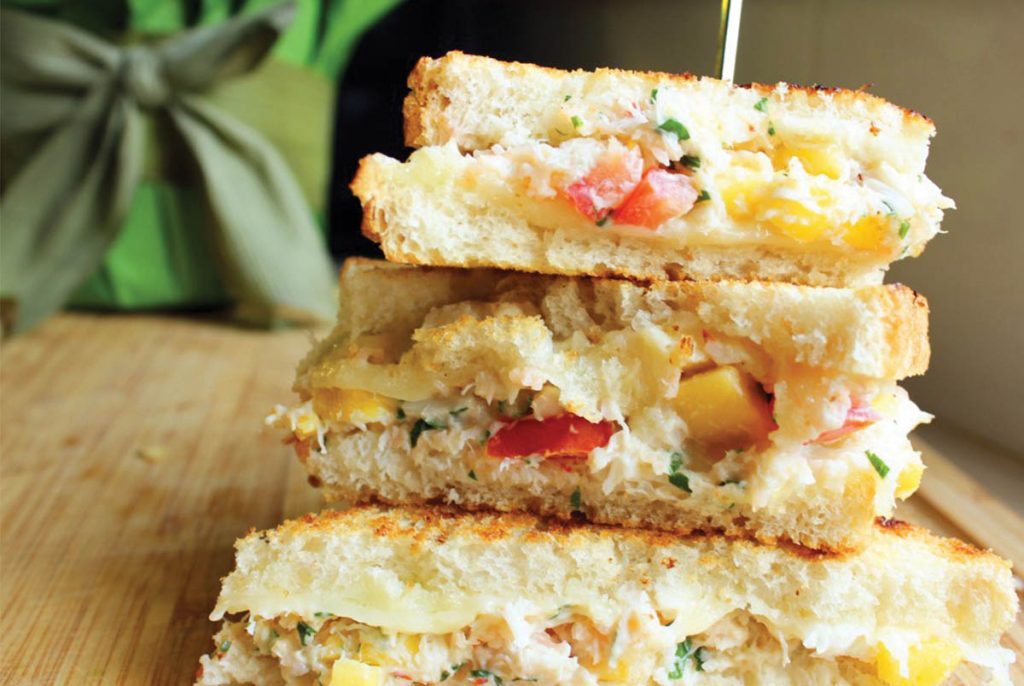 Ingredients
2 slices of San Francisco-style sourdough bread
½ pound lump crab meat
¼ cup pink shrimp, pre-cooked
½ cup mango, diced
½ cup sour cream
½ tomato, diced
1 slice of Swiss cheese
1 teaspoon ginger powder
1 tablespoon parsley, chopped
1 teaspoon preserved habanero pepper, minced
Sea salt and white pepper to taste
Cooking spray or grape seed oil to cover pan
Directions
Mix the shrimp, mango, sour cream, tomato, ginger powder, parsley and habanero pepper. Gently fold the mixture to blend. Add salt and pepper to taste.
Fold in the lump crab meat.
To a large, med-high grill pan add a thin layer of oil. Add bread slices and toast 30 seconds on each side. Remove from the heat onto cutting board or cookie sheet.
Add a scoop or two of the crab and shrimp mixture to one side of the bread and place one cheese slice on the other side of the bread.
Join the slices to create a stuffed sandwich.
Add a touch more oil to the grill pan and add the sandwich. Grill on one side for 2 minutes, then turn each sandwich to the other side for crisping.
Turn down the heat and cook for another 2-3 minutes. This will help ensure that the crab mixture is heated all the way through and the cheese melts.
Once the sandwich is toasted and the cheese is melted, plate the panini and serve hot and crispy!
Matt Moran
Australian chef and restauranteur
Go-To Recipe: Egg, bacon and tomato tart
Why he likes it: "This recipe is my go-to for quick and easy comfort food. You can even prepare the pastry dough the night before for a simple, tasty brunch."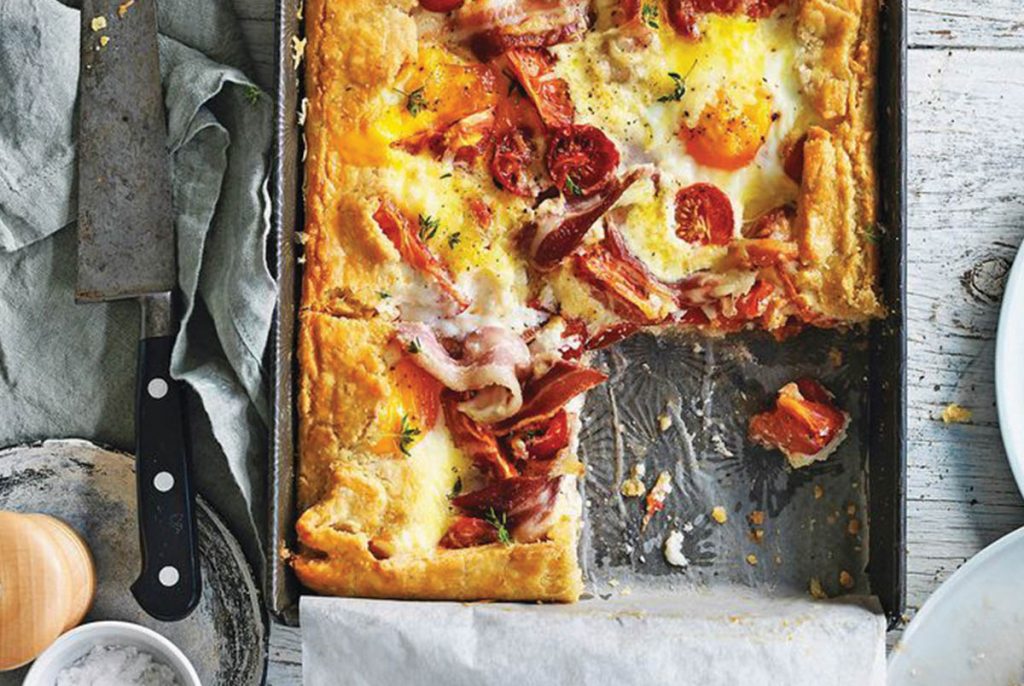 Ingredients

1½ cup sour cream or creme fraiche
2 teaspoons chopped thyme leaves (plus extra to serve)
2 teaspoons Dijon mustard
2/3 cup cherry tomatoes, halved
2 medium-sized red tomatoes, cut into wedges
6 slices thick-cut bacon
6 eggs
2 tablespoons heavy cream
2 tablespoons finely grated
cheddar cheese
Cheddar pastry
2 cups flour (can use white or whole wheat)
2/3 cup chilled, unsalted
butter, cut into small pieces
½ cup cheddar cheese coarsely grated
½ cup cream cheese, cut into small pieces
1 egg
1 tablespoon
white vinegar
Directions
For the cheddar pastry, combine flour, butter, cheddar, cream cheese and a pinch of salt in a food processor and pulse until combined, but still with small lumps of butter. Tip onto a work surface and make a well in the center.
Combine the egg and vinegar in a bowl, mixing with a fork. Add to the well, gently incorporating into the dry ingredients until a rough dough forms. Lightly knead to form into a disc; wrap in plastic and refrigerate to rest for 1 hour.
Roll out pastry on a lightly floured surface to form a rough rectangle and line a 9 x 11 baking tray, pressing into the corners. Trim so edges overhang sides by about 1 inch. Refrigerate until use.
Preheat the oven to 350 degrees. Combine sour cream, thyme and mustard in a bowl, spread over base of the tart, then scatter tomatoes over the top, leaving six gaps (these gaps are where the eggs will fit). Tear the bacon into rough pieces and tuck around the tomatoes, then crack an egg into each gap, being careful not to break the yolks. Drizzle over the cream, scatter with the cheddar and season, then gently fold in the overhanging pastry to form a rough border.
Bake for 30-35 minutes until the pastry is golden brown and the eggs are set. Serve the tart warm or at room temperature, scattered with extra thyme.